"A Unique Journey Into The Past": The Lartigue Monorailway
October 21, 2015
by admin
Comments Off

on "A Unique Journey Into The Past": The Lartigue Monorailway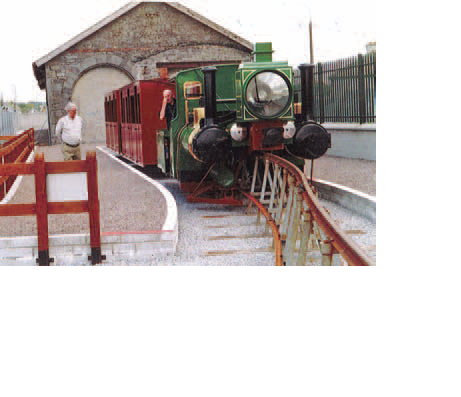 This was the famous Lartigue Monorailway. The service closed in 1924 but thanks to the efforts of a very dedicated and enthusiastic group based in Listowel  The "Lartigue" was born again in 2003. Now visitors to Listowel can sample the famous Lartigue Railway, which was named after its French Inventor, Engineer Charles Lartigue. We are indebted to the Lartigue Monorailway Company which has very kindly given our Institute permission to reprint their article  "A Unique Journey Into The Past"  in this issue of Linkline.
An eccentric new railway opened in North Kerry 125 year ago, which was inspired by, of all things, a camel train! Opened to the public on March 1st 1888, this unique railway was the brainchild of a French Engineer, Charles Lartigue, who had seen camels in Algeria walking tall and comfortably carrying heavy loads balanced in panniers on their backs. This inspired him to design a new type of railway. Instead of two parallel tracks on the ground, it had a single rail sitting out of harm's  way above the sand, and held at waist height on A-shaped trestles. Specially-made carriages would sit astride the trestles like panniers.
By 1881 Lartigue had built a 90 kilometre monorail to transport esparto grass across the Algerian dessert, with mules pulling 'trains' of panniers that straddled the elevated rail. In theory, a monorail system should be lighter, easier and cheaper to build than a railway with twin parallel tracks, so several European railway companies took an interest in Lartigue's novel idea. However only two 'Lartigues' were ever built, one in France, (but it was never used), and the other linked Listowel and Ballybunion, two rural towns in County Kerry in the South West of Ireland. When it opened on February 29th, 1888, it was the world's first passenger-carrying monorail. The future was looking bright, and possibly even camel-shaped!!
Kerry's unique Lartigue Railway carried freight, cattle and passengers, bringing tourists to the seaside resort of Ballybunion and carting sand from the beaches. It ran for 36 years, which was pretty amazing, because although Lartigue's design worked fine with mule trains in the African desert, it was less suited to locomotives pulling passengers and freight across North Kerry.
The engines for instance and all the carriages had to be specially made, at considerable expense. Each locomotive had two boilers and two cabs, balanced on either side of the rail, the driver riding in one cab and the fireman in the other. Because the elevated railway crossed the country like a fence, bridges were needed to carry roads over the line-there could be no such thing as a 'level' crossing.
Loads had to be carefully balanced. This was a time-consuming process, especially where cattle were concerned. Even then, the 'Lartigue' had a reputation for rolling sickeningly as it moved. It was also renowned for being noisy, unpunctual and slow, taking 40 minutes to travel the 15 kilometres between Ballybunion and Listowel.
There was never sufficient traffic to support the route, and after the line was damaged during the Irish Civil War, the railway was closed in 1924. A short section of track was salvaged, but everything else was scrapped. However, Kerry people do not give up easily, and a short stretch of approximately 500 metres of the Lartigue Railway opened for passengers in July 2003 in Listowel.
A new double-side locomotive and two carriages, with capacity for 40 passengers was constructed by a railway specialist company in the U.K. All this was developed by the Lartigue Monorailway Restoration Committee, a voluntary organisation based in Listowel.
Considering the unavailability of any of the original drawings, this has been a tremendous feat of engineering, and once again people can experience this unique mode of transport. The Lartigue Monorailway is based at John B. Keane Road, Listowel, Co. Kerry. It operates daily between May and September.
(Sourced: Lartigue Monorailway Company)
P.S. If any CILT members are visiting Listowel or are anywhere in the vicinity of that town, they should not return home without taking a short trip on "The Lartigue".
Frank Loughlin FCILT