Motor Transport In Ireland On The Eve Of War
September 18, 2014
by admin
Comments Off

on Motor Transport In Ireland On The Eve Of War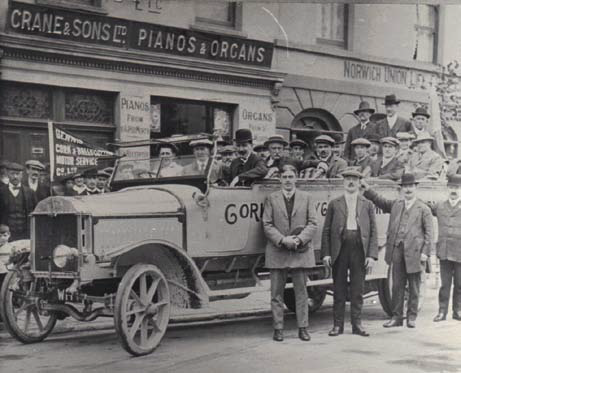 One hundred years ago, on the outbreak of World War One in August 1914, motorised transport in Ireland was very much at an early stage of development. The economy was still based primarily on agriculture with a widely dispersed rural population, while the poor state of the road network outside the major cities hampered the development of motorised transport on any large scale. Throughout Ireland the railways enjoyed a virtual monopoly of transport, even for short distances in many rural areas.
In the cities of Dublin, Cork and Belfast the electric tram provided public passenger transport, while in Galway the link between the city and the seaside resort of Salthill was still provided by horse trams. Derry also had horse trams and a horsedrawn 'long car' operated between the Lough Swilly railway station at Graving Dock and the city centre. Motor taxicabs had appeared on city streets and some enterprising proprietors were running motor charabancs on group excursions and sightseeing trips.
In the years before 1914, attempts at running regular bus services were sporadic and often short lived. The earliest such operation is believed to have been that of the Enniscrone & Ballina Motor Car Company, which on 3 June 1901 started a service between Ballina and Enniscrone with three Daimler vehicles. Ambitious proposals to run from Ballina to Belmullet and Sligo came to nothing and within a few years operations had ceased.
In 1903 Lord Leitrim, who owned the Rosapenna Hotel in north-west Donegal, bought three Stirling motor buses to carry hotel guests to and from Strabane railway station, connecting with Great Northern trains for Dublin and Belfast. This service ran every summer until at least 1908, as did sightseeing excursions from the hotel. In August 1905 the Irish Motor Service Company commenced a summer charabanc service between Kingstown (now Dún Laoghaire) and Bray, using an Albion 12-seater; the following year it was extended to Enniskerry and a second charabanc was placed in service.
Other pioneering summer services aimed at tourists ran between Gorey and Courtown Harbour from 1912 until 1914 and also between Waterford and Dunmore East. In Cork and Kerry the Great Southern & Western Railway, in conjunction with F W Crossley's Tourist Development Company, introduced motor charabancs to the Prince of Wales Route in 1910. Horse-drawn charabancs had served this route since 1858, linking Bantry, Glengarriff, Kenmare and Killarney and also with connections from Kenmare to Parknasilla. Another route linked Glengarriff with Macroom via the Pass of Keimaneigh and Gougane Barra. Despite the outbreak of war, operations continued every summer up to at least 1916.
Following refusal of a petrol licence for the 1917 season, the six charabancs were removed to Inchicore Railway works for storage; two of them later became lorries for use during the construction of the Athy-Wolfhill colliery railway. The Midland Great Western Railway operated a similar motor charabanc service between Clifden and Westport from 1911; this also ceased operation after the 1916 season.
In Dublin city a service between Rathmines and the city centre operated for some months in 1908, using at least two Orion double deckers from a London operator. This venture was short lived and the buses returned to London. The monopoly of the Dublin United Tramways Company on public passenger transport in the city remained intact for the foreseeable future. The fi rst regular service into Dublin from its immediate hinterland was that from Garristown in north county Dublin, started by Thompson's Motor Car Company
of Great Brunswick Street in May 1913; it ran every day except Sunday and served three different routes on alternate days. The fi rst vehicle used was a Commer charabanc and a lorry service was also operated.
In the goods transport fi eld, both motor and steam lorries were being operated by 1914. Cleeve Bros of Limerick are reported as having a fleet of six Foden steam lorries in May 1909. The following year the mail contracts between Ballina and Belmullet, and between Ballina and Sligo, were converted to motor operation.
Even after the outbreak of war further mail contracts were motorised. In April 1916 W Donne Marshall was reported in Tramway & Railway World as running two Albion vans on a mail service between Dublin and Kells. Irishowned vehicles were also pressed into service to support the war effort.
On 10 December 1914 The Commercial Motor carried a photograph of 'the last Leyland left in Ireland – presented to the British Red Cross by W & R Jacob & Co of Dublin'. The same journal, on 19 August 1915, carried a photograph of a Caledon charabanc at a recruiting rally in Kilcrohane, Co Cork.
Within another fi ve years the status of the motor transport industry in Ireland had undergone a complete transformation as a direct result of the war. The expanded use of motor transport on battlefi elds such as Flanders and the Somme had resulted in rapid advances in motor transport technology and thousands of men who had grown up with horse drawn transport were now trained in driving and servicing motor vehicles.
An immediate result of the end of hostilities in November 1918 was the availability of thousands of motor vehicles no longer required by the British armed forces. Depots for disposal of surplus vehicles were set up throughout Britain; the Crossley tender and RAF type Leyland were the most popular with both passenger and freight operators. Leyland Motors bought back all the surplus RAF types from the War Department and set up a special factory outside London, at Kingston-on-Thames, to rebuild them completely before sale.
This ensured that Leyland's reputation for quality engineering was not undermined by resale of warworn vehicles in poor condition. Former soldiers with mechanical skills found ready employment with road transport operators, while many used their demobilisation gratuities to buy an ex-Army vehicle and set up in business as owner operators in the expanding road transport industry.
Development in Ireland was somewhat slower than in Britain, constrained both by the under-developed state of the economy and the outbreak of the War of Independence in 1919 and later by the Civil War of 1922-23. But despite the unsettled state of the country, some enterprising individuals established businesses with links stretching to our present time. In the summer of 1919 a company called A & B Taxis was just one of a number of charabanc owners advertising excursions from Dublin to Glendalough and the Boyne Valley as well as trips to race meetings at Leopardstown and the Phoenix Park.
The foundations of the today's Bus Éireann network were laid in April 1919 when the Clondalkin Motor Omnibus Company was
formed by two publicans – Patrick J McEvoy of Inchicore and Thomas F Healy of Clondalkin. They started a service between Clondalkin and the DUTC tram terminus at Inchicore. Their first vehicle was a second-hand Straker-Squire lorry chassis fitted with a body from one of the GS&WR charabancs which had operated on the tourist routes in Kerry up to 1916.
This pioneering route was particularly busy on Sundays; in those days, pubs could only open on Sundays to serve bona fi de travellers who had journeyed at least three miles from where they spent the previous night. So the people of Inchicore travelled to Clondalkin to drink while those from Clondalkin drank in Inchicore! In time, the Clondalkin company became the Irish Omnibus Company, later absorbed by the Great Southern Railways, which amalgamated with the Dublin United Transport Company in 1945 to form CIE, of which Bus Éireann was established a subsidiary in 1987.
The same year saw the establishment of a bus service between Urlingford and Kilkenny city by James J Kavanagh, a garage proprietor in the village who had been in the taxi business in London before the outbreak of war. This was the start of what is today Ireland's largest independent bus company with over 100 vehicles, now run by the third generation of the Kavanagh family, and the only bus company originating in that era to remain in the same family into the 21st century.
Over the following few years, and especially from 1923 onwards after the end of the Civil War, bus services literally 'mushroomed' all overthe country. In rural areas, some followed the routes of the famous Bianconi 'long cars' of the previous century, while in Dublin city the early owner operators directed their efforts to new housing areas remote from the infl exible tramway network. Some were offshoots of garages, pubs or shops; others were started by ex-soldiers after the demobilisation of much of the National Army following the end of the Civil War. To paraphrase W B Yeats: 'all changed, changed utterly'; whether 'a terrible beauty was born' is a story for another day.
By Cyril McIntyre CMILT
Main Image: May 1912, a Dennis charabanc of the Cork & Ballycotton Motor Service about to set off to a football match in east Cork. The man seated at the back of the vehicle, in front of the canvas hood, is believed to be Terence MacSwiney, later elected Lord Mayor of Cork, who died on hunger strike in 1920 during the War of Independence.