Seatruck Ferries: An Irish Sea Success Story
January 27, 2017
by admin
Comments Off

on Seatruck Ferries: An Irish Sea Success Story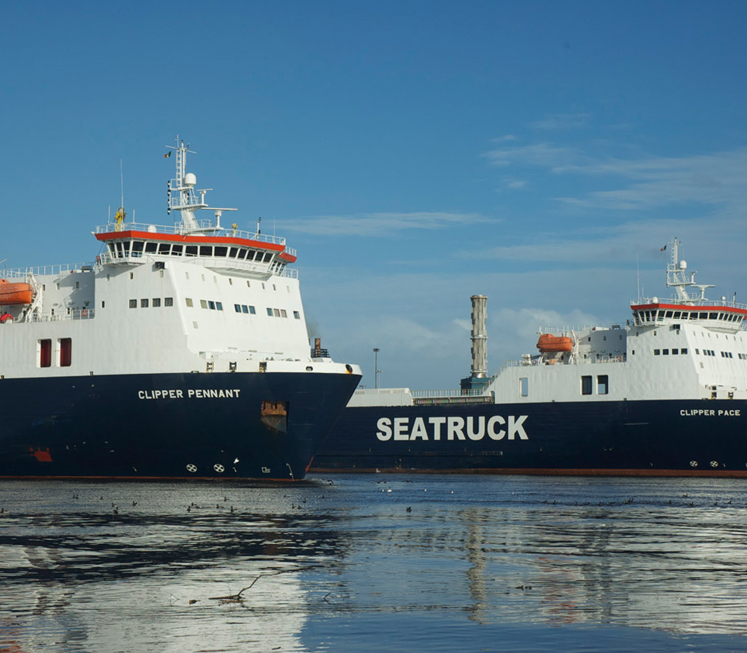 In a CILT tour of Seatruck Ferries at Dublin Port, CEO Alistair Eagles explained the strategies that keep the company competitive, even with the prospect of Brexit on the horizon.
Last September CILT Ireland visited Seatruck Ferries at Dublin Port. The tour involved members going on-board the Seatruck Ferries vessel Seatruck Progress, experiencing a visit to her bridge and engine room, along with visiting her passenger accommodation and viewing one of her cabins. The event also involved a talk by Alistair Eagles CMILT CEO of Seatruck Ferries, on the success of the Seatruck Ferries Business Model.
Since it was founded in 1996, Seatruck Ferries has experienced significant growth as a result of changing market conditions in the sector and its significant investments in the freight-only RoRo ferry services, focused on the unaccompanied drop trailer market. Seatruck is different from its competitors; its speciesism is freight and they operate a fleet of RoRo ships that have a maximum passenger capacity of 12 drivers. It operates on longer crossings – generally unlike its competitors – such as Dublin-Liverpool/Heysham and Warrenpoint-Heysham rather than using ports such as Holyhead or Cairnryan.
In his talk, Alistair discussed how Seatruck is a valued alternative way of getting goods from A-B for many logistics providers. The service helps take trailers and vehicles off the road by offering a ferry service that docks much closer to the loads origin or end destination, saving valuable time for drivers. The company has already significantly upped its frequencies and capacity on its Dublin-Liverpool route this year, almost doubling capacity with up to four additional roundtrips midweek.
As a result, Seatruck Ferries has become the fastest growing freight service on the Irish Sea and the company overall is experiencing growth at roughly three times the market level. A lot of this growth is coming from a transfer away from the traditional logistics mind-set of a shorter crossing and having your load driver-accompanied end-to-end. Proactive logistics providers are now seeing the potential of this change, switching volume to the driver-accompanied, longer crossing model.
2017 is expected to be another exciting year for Seatruck, namely due to the recently opened M6 Connector Road, which gives Heysham port direct motorway access to the M6, connecting junction 34 of the M6 directly to the Port. This completely bypasses the current traffic bottleneck of Lancaster Town, making the port significantly more attractive for transporting trailers through to end destinations in Scotland and Northern England. Capacity will be enhanced on services to/from Heysham as demand grows.
Naturally the small matter of Brexit is on the company's mind. However, Seatruck Ferries has chosen to focus on the potential positives of the coming change. The CEO is confident that that Brexit will bring new opportunities for the company, just as the recession did: "The recession was a game changer because it got people thinking! Could we be doing things better? Would a different supply chain approach work? Let's try Seatruck out!"
According to Alistair, Brexit is likely to be similar: "Brexit is likely to be disruptive but it is important not to talk ourselves, as an industry, into the ground. Look at the fundamentals. Ireland is still an island, that's not going to change. There will always be a trading relationship between the UK and Ireland, and there will always be a sea in the middle."
Seatruck see immense potential for the UK and Irish economies to benefit from greater use of the Irish Sea as a key cargo route and by using the hub ports of Liverpool and Heysham. The future looks very bright for those with existing logistical strengths in these geographic areas, with additional frequencies and capacity improving supply chain performance.
CILT would very much like to thank, Alistair Eagles CMILT, CEO of Seatruck Ferries and his Dublin based team for organising and hosting this successful event. CILT is due to facilitate another visit in spring 2017. If you are interested, keep an eye out as it is likely to be very popular once again.
Richard Butler CMILT
Chairperson CILT Ireland Eastern Section